On this page, you will find many of the OLW forms, deadlines, etc that come in our weekly newsletter, Monday Memos.
For current preschool students only, you can use this link to register for either preschool or kindergarten for 2022-23.
Parent Information Night for Preschool and Kindergarten
Wednesday, January 19, 7:00pm
Multi-purpose Room
current families can RSVP by sending a quick email to Danielle Kenney, dkenney@olwschool.org
Friends and neighbors who are interested in attending can use this Google Form
All School Open House
Sunday, January 30
10:30am – 12noon
________________________________________________
It's time to order your student's Yearbook? That's right, online ordering is NOW open. Check it off your list and place your order today by using the following link. Reserve your yearbook today so that your student will have a treasured keepsake of their 2021-2022 school memories!
________________________________________________
UPCOMING SUPPER CLUB EVENTS:
Wednesay, January 19 all day!
Peggy Kinnane's in Arlington Heights Dine in or carry out – mention "OLW" and 20% of all proceeds come back to us.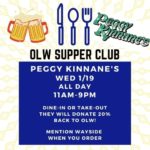 ________________________________________________
Don't forget to help easily raise funds for the school by participating in the gift card rebate program – Shop With Scrip. It's super easy now with the RaiseRight app!
Register today!  Get the app: https://www.raiseright.com/ 
Create an account on the RaiseRight app or at https://shop.shopwithscrip.com/ . Please email Ashley Romanacce at amromanacce@hotmail.com or Ann Lang annlang221@gmail.com for OLW's personalized school code needed to sign up/register.  
NUT CARDS:  NUT cards are provided for every $50 you earn for OLW with SWS. This is very easy to do during the holiday season.
_________________________________________________
IF YOUR CHILD IS ABSENT FROM SCHOOL: Whenever a student, preschool-8th grade is absent from school his/her parent or guardian is expected to telephone the school at (847) 255-0050 to report the absence. Calls should be made between 7:30 a.m. and 8:30 a.m. Calls will be answered by the school voicemail system (elementary or middle school). Please indicate your name, the student's name, homeroom teacher or room number, and the reason for absence. For accuracy sake verbal messages from siblings or e-mails regarding an absence will not be accepted. If a student has been marked absent by his or her homeroom teacher and no call has been received, the school will ordinarily contact a parent at home or at work to verify the child's whereabouts. Failure of parent/guardian to cooperate with the school in this procedure may jeopardize the safety of your child.
ABSENTEE HOMEWORK REQUESTS:
– Requests for elementary school homework assignments should be given at the attendance call.
– Homework requests for 6th, 7th and 8th graders may be found on "google classroom".
CORE is returning!
C.O.R.E. is an after-school enrichment program offering OLW students additional opportunities to stimulate their mind and spirit. C.O.R.E.'s mission is to support fun and unique learning opportunities for students while giving teachers the chance to share special knowledge and skills.
Classes will be offered this fall for 8 weeks – Thursday's September 30th – November 18th from 3:15 – 4:15 PM.
Pick from the following classes:
Chess (K-5th) – use course code OLW9.30.21C – early bird price is $106.00
S.T.E.A.M. (K-5th) – course code OLW9.30.21S – early bird price is $122.00
Smart Start Art (K-3rd) – course code OLW9.30.21A  – early bird price is $106.00
Please register by 10pm PST on 9/22 for the early bird price. 
https://www.learningmeansfun.com/parents/new
If you have difficulty registering, please contact Afterschool Enrichment Solutions at 847-482-9999 or registration@learningmeansfun.com
USEFUL LINKS
Calendar at a Glance 2021-2022
Marla's Lunch – website for ordering
2021-2022 Extended Care Informational Flyer
2021-2022 extended care registration form
School Supply List 2021-2022
Article about the new windows being installed
August2021 Welcome Back Letter from Mr. Wood
---
You can help our school while you shop at Amazon or when using the Amazon app. Simply follow the instructions below to select "OUR LADY OF THE WAYSIDE Parish & SCHOOL" as your charity and activate AmazonSmile in the app. They'll donate a portion of your eligible mobile app purchases to us.
How it works:
1. Open the Amazon app on your phone
2. Select the main menu (=) & tap on "AmazonSmile" within Programs & Features
3. Select "OUR LADY OF THE WAYSIDE Parish & SCHOOL" as your charity
4. Follow the on-screen instructions to activate AmazonSmile in the mobile app
Don't Forget to Shop With Scrip to earn easy money for OLW:
Place your order: https://shop.shopwithscrip.com/
STEP 1: CREATE YOUR ACCOUNT.
https://shop.shopwithscrip.com/Login/Enroll
Please email Ashley Romanacce at amromanacce@hotmail.com or Ann Lang annlang@gmail.com for OLW's personalized school code needed to sign up/register.
STEP 2: Visit school website for all instructions
http://www.olwschool.org/support-olw/other-support-opportunities/
Access the new Our Lady of the Wayside Directory now (Membership Toolkit)
https://olwschool.membershiptoolkit.com