A Night for the Blue and White Annual Gala
Saturday, February 27, 2021 – Save the Date and Join Us Virtually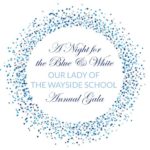 Our Lady of the Wayside School's annual Gala has grown to become one of the most important fundraisers for our school community. For more than thirty years, local businesses, friends of the parish and school, and numerous other supporters have looked forward to setting aside an evening in celebration of OLW School.
This whole school year has been one to celebrate the success of teaching our students in-person. We have kept many traditions, just with modifications. Our annual Gala is another event that is being modified. This year, we are celebrating a Year for the Blue & White – a virtual event will take place on Saturday, February 27, 2021.
To buy your raffle tickets or make a general donation, please visit the Gala website. Keep checking back to see what silent auction item will be available for bidding.  
The Gala will not look the same this year, but we are reminded that we are one community focused on giving our children the best educational experience possible. While our dedicated families work together toward achieving this goal, we also ask for help and support from local businesses and individuals within our community.
Thank you so very much to our sponsors – we can't do this without them
PARAGON MECHANICAL         MARY SCHNEIDER GROUP – WITH COMPASS        PLUM GROVE DENTAL       WEALTH ENHANCEMENT GROUP
Kaplin Orthodontics     Saint Viator High School     SMART Roofing     Tony's Fresh Market     Westgate Dental
The money raised at the Gala is used to fund vital Family & School Association programs that support the students, teachers, and The Annual Fund. These funds are heavily relied upon to support the school's mission statement to enrich our students' minds, foster a deep and meaningful faith in each child, and expand their talents. By championing our students today, we ensure the continued success of OLW School and the students of tomorrow.
Fundraising proceeds from the Annual Gala are very important to OLW School, as tuition and fees don't cover the full cost of operating the school. The Gala proceeds help fund:
– the services of a licensed school counselor
– reimbursements to teachers for classroom expenses and professional development
– the cost of field trips, cultural assemblies, and special days for students
– continuously updated technology in the classroom.
These are just a few examples of how important your donations are towards the success of our students. All of these achievements are a testament to the dedication and hard work of our students, faculty and parents.
In previous years, money raised specifically during the Gala Fund a Need allowed the school to install security cameras and new keypad locks in the elementary, middle and preschool buildings. The benefits of the security upgrades were immediately seen by the administration and others. The new cameras have improved procedures for safety drills and actions that would be taken in an actual emergency. Replayed footage has also helped in the handling of various discipline situations and can be accessed remotely at any time by the administration. A robust Fund a Need  drive also helped make possible an update to the school offices and the renovation to renovate the large library space into a new modern multi-purpose room. Two unused classrooms were then turn into separate primary and elementary library/resource spaces. Middle school books were moved to the middle school building so that students in grades 6-8 have easy access to books that are appropriate for them. 
A Night for the Blue & White is an opportunity for parents, faculty and staff, parishioners, and friends of OLW to come together in support of the school. The money raised at the Gala funds vital Family & School Association programs that support OLW students and teachers and the OLW School Annual Fund. By championing our students today, we ensure the continued success of OLW School and the students of tomorrow.
Feel free to contact us at any time if you have any questions. olwblueandwhitegala@gmail.com
Pictures from previous Gala's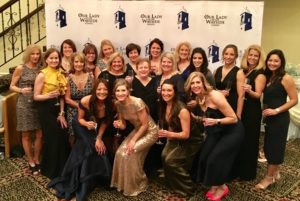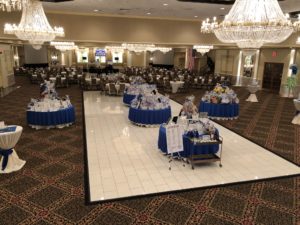 Gala Chairs from past few decades                                always a beautiful event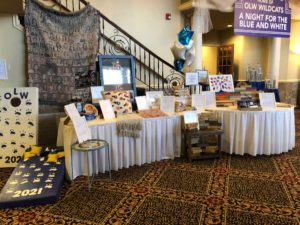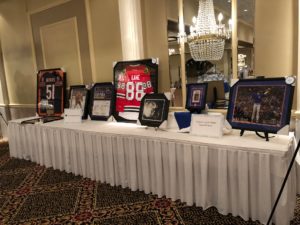 Classroom projects are inspiring and creative                Lots of sports items are always up for bid