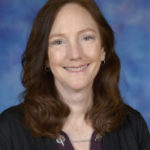 Current Grade/Specialty Area:
 School Nurse
Teacher/Staff At OLW Since: 2001
Education:
Triton College; Associate Degree in Nursing
Grand Canyon University; BSN
Special Certificates, Licenses, Programs, Trainings:
Registered Nurse; CPR; Medical/Surgical Certification; Pain Management Nursing Certification
Email: schoolnurse@olwschool.org School Phone: (847) 255-0050     Voice Mailbox: 261    Hours: 9:30am – 2:30 pm M-F
I have been a school nurse here at OLW since 2001 when my daughter Megan was in preschool with Mrs. Bukowski. I was the first school nurse OLW had! It's a pleasure to work with the OLW staff and students. Every year I look forward to meeting new smiling faces and getting to know them throughout the years.
My background is mainly hospital based on a variety of units. For 13 years I was the director of med/surg telemetry and Pediatrics. Currently I work part-time at Northwest Community Hospital as a staff nurse and of course here at OLW.
I truly enjoy working here and look forward to another great year.