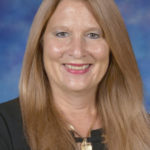 Current Grade/Specialty Area:  Grade 8 Homeroom and Religion
Both math levels for 7th and 8th grades 
Teacher/Staff At OLW Since:  2018
Educator Since:  2009
Education:
BBA in Accounting and Business Systems, UW-Madison
Masters in Secondary Education, National Louis University
Special Certificates, Licenses, Programs, Trainings:
Illinois Teaching Certification for Math and all Business classes (Grades 6-12)
Middle School Endorsement
VIRTUS Certified
Email: sshewmon@olwschool.org           School Phone: (847) 255-0050          Voice Mailbox: 321
My husband, Brad, and I have been parishioners here at Our Lady of the Wayside for over 30 years. I am thrilled to be teaching here at my "second home". We have three adult children and two grandchildren. I have taught Religious Education here for 14 years and have led Bible Studies for about 12 years. In addition, I have been very involved in various ministries in the Parish including Marriage, Engaged, and CFM.
Teaching is my second career and I began teaching at Palatine and Fremd High Schools before switching to Middle School over six years ago. God led me to teach at St. John Berchmans and now here at OLW. I feel so Blessed that God brought me to my neighborhood school that I love and feel honored to be at. I pray that God will use me to bring his love and encouragement to my students as well as to help them learn math and make a difference in their lives.
Grade 8 Religion
The students are preparing for Confirmation by growing in their relationship with the Blessed Trinity through prayer, Mass, service, and study. Classroom activities include reading and discussing Scripture, learning and using different types of prayers, performing acts of kindness, and completing work in the 2 text books.
8th-GRADE-RELIGION 20-21
8th GRADE GOSPEL REFLECTION ASSIGNMENT GUIDELINES 20-21
8th GRADE HOMILY-EVALUATION-ASSIGNMENT-GUIDELINES 20-21
8th Religion homily evaluation rubric2020-21
Grade 8 Algebra
Algebra I concepts includes: solving, graphing, and writing linear equations and inequalities; solving systems of linear equations; linear functions and exponential equations and functions. The advanced math group concepts will include: factor, solve, and graph quadratic equations as well as square root, and rational functions, ending with data analysis.
8th Grade Regular Math 2020-2021
Grade 8 Algebra Course Guidelines
Grade 7 Pre-Algebra – Regular Level
Grade 7 concepts includes integer operations, rational numbers (fractions), expressions and equations, inequalities, ratios and proportions, percentages, angles and construction, Circles, surface area and volume, and probability and statistics.
Grade 7 Pre-Algebra Course Guidelines
Grade 7 Advanced Pre-Algebra
Grade 7 Advanced concepts include: solving, graphing and writing linear equations; solving systems of systems of linear equations; linear functions; and angles and triangles. Also, students will learn about: transformations; real numbers and Pythagorean Theorem; volume of cylinders cones and spheres; scientific notation; exponents and data analysis. If time, additional topics will include inequalities, scale drawings, circles and area, surface area and volume of prisms, pyramids and cylinders, ending with probability and statistics.