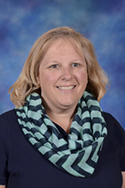 Current Grade/Specialty Area:
 4th Grade
Teacher/Staff At OLW Since: 1999
Educator Since: 1991
Education:
Northern Illinois University: Master of Science in Special Education, 1996
Northeaster Illinois University: Bachelors of Arts 1989, Elementary Education, with a minor in Social Sciences.
Special Certificates, Licenses, Programs, Trainings:
Elementary Education (K-6) type #03
Learning Disabilities (K-12) type #10
Master Catechist
Email: nkramp@olwschool.org          School Phone: (847) 255-0050          Voice Mailbox: 310
Follow us on Twittter:  @MrsKrampolw4
I have been a teacher at Our Lady of the Wayside School since 1999. What I like most about teaching 4th grade is watching the children become independent and successful learners. It is also exciting to watch them become more aware of the world they live in through our Science and Social Studies programs. I live in Hoffman Estates with my husband and four grown children. As a family, we enjoy sporting events, movies, the holidays and spending time together.