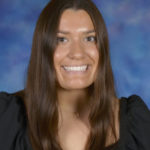 Current Grade/Specialty Area:  5th grade
Teacher/Staff At OLW Since: 2020
Educator Since: 2020
Education: University of Illinois, Urbana – Champaign
Special Certificates, Licenses, Programs, Trainings:
Email: mskweres@olwschool.org
Follow me on Twitter: @MissSkweres
I am thrilled to be at OLW! I graduated from the University of Illinois, Urbana-Champaign in 2020. This year is going to be filled with a lot of growth as 5th graders will soon become middle schoolers. I am looking forward to a great year with my wonderful students.