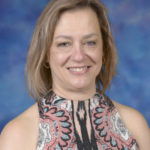 Current Grade/Specialty Area: Middle School Math
Mrs. Brennan is also the Before and After School Care Program Director
Teacher/Staff At OLW Since: 2007
Educator Since: 1989
Education:
Education: Northeastern Illinois University
Bachelor of Arts in Elementary and Early Childhood Education
Special Certificates, Licenses, Programs, Trainings:
Master Catechist
Email: kbrennan@olwschool.org School Phone: (847) 255-0050          Voice Mailbox: 317
Follow me on Twitter:  @kbrennanOLW206
I have been a teacher in the Catholic schools since 1989. I began at St. John Vianney in Northlake, Illinois teaching 1st grade. In 2007, I was very excited to accept a position teaching in a location much closer to my Arlington Heights home. I have found Our Lady of the Wayside to be my home away from home and the teachers, students and families my second family. I appreciate the opportunity to be a part of such a wonderful community and look forward to many years of service.