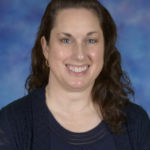 Current Grade/Specialty Area:
 3rd Grade
Teacher/Staff At OLW Since: 2003
Educator Since: 1995
Education:
Elmhurst College~ Bachelor of Arts: Education major, English minor
St. Xavier University~ Master of Arts in Teaching and Leadership
Special Certificate~ Master Catechist
Email: jokulanis@olwschool.org          School Phone: (847) 255-0050          Voice Mailbox: 320
Follow me on Twitter: @olwgrade3teach
My teaching experiences include: teaching children in 3rd, 5th, and 6th grades as well as teaching ESL students. I truly enjoy teaching Our Lady of the Wayside students; our students are very friendly, empathetic, and eager to learn! I love those priceless "teachable moments" when students' faces just shimmer when they've learned a particular concept. It is wonderful to witness a child's learning experience. I appreciate the opportunity to teach 3rd grade in this fantastic community.