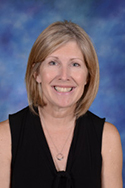 Current Grade/Specialty Area:
 1st Grade
Teacher/Staff At OLW Since: 2004
Educator Since: 1985
Education:
National Louis University: Master of Arts in Teaching, 2004
Northern Illinois University: Bachelor of Science in Early childhood Education, 1985
Special Certificates, Licenses, Programs, Trainings:
Master Catechist, 2010, 2016
Email: dfisher@olwschool.org          School Phone: (847) 255-0050          Voice Mailbox: 322
Follow me on Twitter: @d_fisher106
Although I didn't begin teaching here at Our Lady of the Wayside School until 2004, I have been in the teaching profession for over thirty years. I began my career at the preschool level. After teaching kindergarten here for five years, I expanded my teaching experience by moving to first grade! This is my 12th year teaching first grade. I believe that a critical component to your child's success in school is the collaborative relationship between home and school. Please contact me at any time by email or in writing.