On this page, you will find many of the OLW forms, deadlines, etc that come in our weekly newsletter, Monday Memos.
GALA INFORMATION
WEEK 3: FRIENDS AND FAMILY CLICK IT CHALLENGE ACTION REQUIRED FEB 18-23
Please CLICK HERE to go to the Friends and Family Click It Challenge website! Then forward this link to as many people as you can. These clicks can add up quickly, so let's get the message out! Deal with Diamond Group, on behalf of OLW moms Julie Carlucci and Carrie Angst, will donate $1 for every click, up to $1000. Please also encourage friends and family to donate to fund a need while in the website.
FINAL FRIDAY CHALLENGE: DANCE CHALLENGE on February 22
The Massarelli Family and Tony's Finer Foods will donate $1500 directly to fund-a-need for students to dance continuously for 5 minutes. It's time to get this party started! All students must DANCE for 5 minutes at the end of the school day! Dance, sing along and get excited
because great things are coming to OLW!
KIDS RULE money due by Wed, Feb 20; raffle tickets delivered on Fri, Feb 22. Then your students can pick the outing or raffle that they want. KIDS RULE raffle winners will be announced at the end of the day, Fri, Feb 22. Mr. Wood will pick the Kids Rule winners on Friday, Feb 22. 
The anti-bullying presentation for parents has been rescheduled for Thursday, February 21. The event is at 7pm in the gym. Jodee shares her very personal story of bullying because she wants to motivate change. She's presented her anti-bullying program It's NOT Just Joking Around!™ to tens of thousands of students, teachers and parents. There will be autographed copies of her book, Please Stop Laughing at Me, available for $10.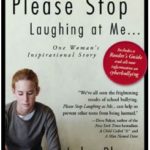 Our Lady of the Wayside School is looking for parishioners who want to serve by being part of the School Advisory Board.
– There are three SAB vacancies for 2019-20. Members serve a three-year term.
– Any parishioner over the age of 21 may nominate himself or herself.
– Complete the official 2019 SAB Election Nomination Application and submit it by the deadline of March 11th at 7:30pm to Michael Louise at mlouise@ameritech.net and copied to SAB Chairperson Michael Schermerhorn at mscherme@alumni.nd.edu.
– The annual election of new members to the OLW School Advisory Board will be held after Saturday mass on April 6th and after each mass on Sunday, April 7th.
You can find more information about the School Advisory Board and its responsibilties from the SAB tab on the website. 
Camp WOW Middle School Retreat
Camp WOW is a four day outdoor retreat that takes place in June at Dickson Valley Camp near Plano, Illinois. Camp WOW is universally loved by the participants – so much so, that former participants return as camp counselors in their high school years! Sign up ASAP as spots are limited! 2019 Camp Wow Registration.
Arielle Joaquin, Director of Youth Ministry, Our Lady of the Wayside Parish
(847) 350-8008 (call/text)
Because of the missed days of school, the end of the year schedule is as follows:
– The last day of school for grades 1-7 will now be Tuesday, June 11, 2019. Dismissal will be at 11:50.
(June 7th will be a full day of school)
– Kindergarten graduation has been moved to Friday, June 7, 2019 at 10:00.
– The last day for preschool will be Wednesday, June 5. 2019. The T/TH half day class will end on June 4, 2019.
Ladies Night Out has been rescheduled from January 11th to Saturday April 6th. 
Registration for the 2019 – 2020 school year
Registration forms and tuition agreements for the 2019-2020 school year were sent home during Catholic Schools Week. The administration makes important decisions about staffing and programs based on the expected enrollment, so please indicate your intentions in a timely manner. Registration forms are due back to the school by March 1st with a $150 deposit for each returning student. This deposit will be applied to your tuition for the 2019-2020 school year. Registrations for returning families submitted after March 1st will require a $200 deposit. Only $150 of the deposit will be applied to tuition. If for some reason you do not plan to return to Our Lady of the Wayside next year, please indicate that on the form and return it to the school office. If you are undecided or have questions about next year, please do not hesitate to make an appointment to speak with Mr. Wood and/or Mrs. Boarini. Any information you can provide is very helpful.