On this page, you will find many of the OLW forms, deadlines, etc that come in our weekly newsletter, Monday Memos.
EARLY CHILDHOOD REGISTRATION HAS BEGUN for CURRENT PK FAMILIES
All current preschool students received enrollment information before Christmas Break. Please return this form to the elementary school office by Friday, January 22nd! Open enrollment starts in just a few weeks, so please return your forms promptly to secure your first choice of preschool or kindergarten classes for next year!
SIBLING REGISTRATION
If you are registering a new preschool student for next year that is a sibling of a current OLW student, please complete a new registration form. Those forms can be found online or you can request one from Mrs. Tiltz (ctiltz@olwschool.org). Registration forms, along with the $150 registration fee, birth certificate and baptismal certificate, should be returned to the office by Friday, January 29th to receive prioritization. Open enrollment starts February 9th so sign up early to ensure your child's placement for next year. 
Online registration form for new PK or K student (who has a sibling currently enrolled)
Credit Card Payment Link for Student Registration
Registrations for 1st – 8th Grade
Registration forms for current students entering 1st – 8th grade will be sent home before Catholic Schools Week (Week of January 25th). Any new students entering 1st – 8th grade can submit a new registration form at any time and will be processed after February 9th.
The school office will be open in the mornings from 8-12 Monday-Thursday during our remote learning period. You can also scan and email the forms to Mrs. Tiltz (ctiltz@olwschool.org). 
The Next Supper Club is at Culver's in Mt. Prospect on Tuesday, January 26 from 4-9pm.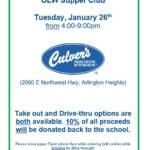 YEARBOOK PHOTO REQUEST:  Please send any pictures you have from HALLOWEEN at OLW or ALL SAINTS DAY Mass to yearbook@olwschool.org. Full/Actual resolution of photos is preferred but we will work with what you have. Be sure to identify students' names, grades, and event if possible. Thank you!
Here is the PowerPoint from Mr. Wood's Back To School presentation video.
2020-2021 Back To School Slides – final
Don't Forget to Shop With Scrip to earn easy money for OLW:
Place your order: https://shop.shopwithscrip.com/
STEP 1: CREATE YOUR ACCOUNT.
https://shop.shopwithscrip.com/Login/Enroll
Family Enrollment Code: 67A6F2EA55922
STEP 2: Visit school website for all instructions
http://www.olwschool.org/support-olw/other-support-opportunities/
Contact Ashley Romanacce or Ann Lang with questions 
Access the new Our Lady of the Wayside Directory now (Membership Toolkit)
https://olwschool.membershiptoolkit.com/