On this page, you will find many of the OLW forms, deadlines, etc that come in our weekly newsletter, Monday Memos.
KIDS RULE RAFFLE and MS Raffle are back – what a fun way to support this year's GALA.
– Kids Rule deadline is each Wed at 12 noon. Students put tickets in the jars on Friday and a winner is picked that afternoon. 
– Middle School raffle looks a little different (no scratch-off tickets this year), but still lots of fun. A randomized drwaing of tickets will occur on Fri afternoon and prize delivered on Mon. 
Tickets for each are just $5. AND each ticket purchased will be entered into Grand Prize Drawing. One student from K-5 and one from 6-8 can win AirPods, a Hoverboard or cash. 
Details for each in this flyers.        kids rule raffle info        ms raffle info
The Next Supper Club is at Corner Bakery in SCHAUMBURG on Tuesday, February 9 – ALL DAY
15% of your order (takeout, delivery or pickup) will be donated back to OLW. You can call (847-240-1111), walk in or use their website. Just mention that you are supporting OLW before you order. On the website, use code 659.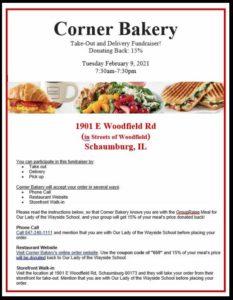 YEARBOOK PHOTO REQUEST:  Please send any pictures you have from HALLOWEEN at OLW or ALL SAINTS DAY Mass to yearbook@olwschool.org. Full/Actual resolution of photos is preferred but we will work with what you have. Be sure to identify students' names, grades, and event if possible. Thank you!
Here is the PowerPoint from Mr. Wood's Back To School presentation video.
2020-2021 Back To School Slides – final
Don't Forget to Shop With Scrip to earn easy money for OLW:
Place your order: https://shop.shopwithscrip.com/
STEP 1: CREATE YOUR ACCOUNT.
https://shop.shopwithscrip.com/Login/Enroll
Family Enrollment Code: 67A6F2EA55922
STEP 2: Visit school website for all instructions
http://www.olwschool.org/support-olw/other-support-opportunities/
Contact Ashley Romanacce or Ann Lang with questions 
Access the new Our Lady of the Wayside Directory now (Membership Toolkit)
https://olwschool.membershiptoolkit.com/