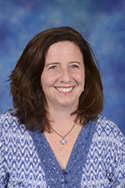 Current Grade/Specialty Area: PK-3

Teacher/Staff At OLW Since: 2015

Educator Since: 1991

Education:
National-Louis University, Master of Education, 1995
University of Illinois, Urbana-Champaign, Bachelor of Science, 1991
Major:  Elementary Education
Carmel High School, Mundelein
St. Mary's School, Buffalo Grove
Special Certificates, Licenses, Programs, Trainings:
Illinois Certificate Type 03:  Elementary K-9
Social Studies Endorsement
CPR Trained
YogaKids Certification
Harper College, Palatine, 2016:  Child Development Coursework
Member of National Association for the Education of Young Children (NAEYC)
Member of Golden Corridor Association for the Education of Young Children (GoAEYC)
Member of the National Catholic Education Association (NCEA)
Email: ldoherty@olwschool.org     School Phone: (847) 255-0050 Voice Mailbox: 350
What a blessing to share the wonders and joys of life with children in PK-3. I am thrilled to take this PK-3 journey as we play and pray together and develop new friendships. Sharing our faith each day as we grow and learn serves as a reminder that our faith guides us wherever we go and whatever we do.
It has been a gift to return to school as a classroom teacher and continue my teaching career that started back in 1991. After college, I taught for 12 years at Arnett C. Lines in Barrington. Then, I took some time off from teaching and spent many years volunteering at Our Lady of the Wayside School and Parish while raising young children. The past five years, I have worked as a substitute teacher and then a preschool teacher's aide at Our Lady of the Wayside School (2015-2016) and Arlington Heights School District 25's Early Childhood Program (2014-2015).
My husband and I live in the community. Our older two children, OLW graduates, attend Saint Viator High School, while our younger two children are in sixth grade and fourth grade here at Our Lady of the Wayside School. Our family has many fond memories of our years here and has made many dear friendships as we raise our family and share our faith with school and parish families.  I look forward to welcoming our PK-3 children and families to the Our Lady of the Wayside School community and sharing a happy, healthy school year together.
Dear Jesus,
This day is for you.
God Bless this day.
God bless me too.
God bless all that I think.
God bless all that I say.
God bless all that I do.
PK-3-ABCs-Getting-to-Know-Our-Lady-of-the-Wayside-School-Doherty