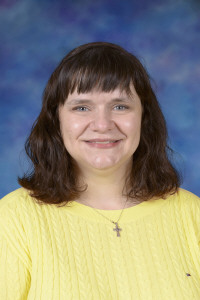 Current Grade/Specialty Area:
Pre-K Multi-Age
Teacher/Staff At OLW Since: 2020
Educator Since: 1996
Education: St. Norbert College BA 1996, National Louis University (ECC Endorsement) 2020
Special Certificates, Licenses, Programs, Trainings:

Elementary Education (BA), Early Childhood Education (Endorsement)
Email: kgaughan@olwschool.org (This is the best way to reach me.)
School Phone: (847) 255-0050          Voice Mailbox: 314
Hello! My name is Katie Gaughan and I am so excited to join the Our Lady of the Wayside School community. I am a product of 17 years of Catholic education and I have spent my entire professional career in the Catholic schools as well. This is my 13th year of teaching and my third year of teaching pre-kindergarten. Before I taught pre-k, I taught 3rd grade for a total of 10 years. Upon graduating from St. Norbert College (DePere, WI), I taught 3rd grade at Our Lady of Destiny School in Des Plaines, the consolidated school of St. Mary and St. Stephen parishes. There I taught alongside some of my former teachers from St. Mary; a very cool experience. Beginning in 2001, I was lucky enough to take a "sabbatical" and stay home with my three children for the next 12 years. I went back to teaching full time eight years ago at Mary, Seat of Wisdom School in Park Ridge. It was there I discovered my love for teaching the "littles." I loved it so much that I went back to school to receive my endorsement in Early Childhood Education. I currently live in Park Ridge with my husband, Brendan, who is also an educator, my three children, Annie (19), Maggie (17), and Tommy (15), and my furry Shnoodle, Lucy (13). In my free time I enjoy spending time with my family and friends, watching the Cubs and Bears, designing and decorating my home, and finding fun, new ideas for teaching.
My goal for teaching in an early childhood classroom is to teach through play and movement and to get to know each child as an individual. I believe in doing this the child will feel safe and secure and grow socially, emotionally and academically.