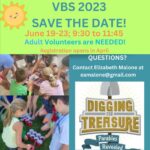 Vacation Bible School
Digging for Treasure, Parables Revealed
June 19-23, from 9:30am – 12:45pm, in the school gym
– VBS is for students entering Kindergarten through 5th grade
– Learn about Jesus and our faith through songs, Bible stories, crafts, and games
Registration is happening now!
Adult and student volunteers needed. Please consider giving your time and talents to this wonderful ministry.
High school and middle school students, please use this link to volunteer.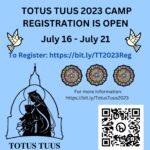 What is Totus Tuus?
Totus Tuus is a week-long, summer youth retreat for young people in first through 12th grade. Participants will grow in their faith through skits, games, songs, celebrating the sacraments, and engaging, interactive teachings. Themes this year are the Mystery of Salvation and the Sorrowful Mysteries of the Holy Rosary.
– 1st-6th grade program: Mon, July 17 – Fri, Jul 21, from 9:30am – 2:30pm
– 7th – 12th grade program: Sun, Jul 16 – Sun, Jul 20 from 7-9pm
7th grade to high school students are encouraged to volunteer to help with the day program. Day program volunteers may participate in the evening program free of charge.
Join us in the evening on Sunday 7/23 at St. Edna for an outdoor Christian rock concert with the Scally Brothers, to close out our Totus Tuus experience.
Student Participant and Student Volunteer Registration link: https://forms.gle/1aG4PM4YtCRYRBdN9
We need many adult volunteers! https://forms.gle/9muSF2v3A3z4jhw6A
A Totus Tuus team of four college students and seminarians will inspire our young people with their energy and enthusiasm for our Catholic faith. If you are willing to host them or invite them for a meal, please use the adult volunteer link above.