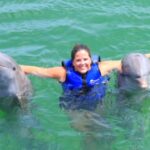 Meet Mrs. Jennifer Cummings, our Library teacher. She's not new to our school community though – she's an alumna of OLW, is a school parent and parishioner and was an OLW PK aide a few years ago. Here are some fun facts she shared…
Her Favorite food: a good pizza with Diet Coke
One of her hobbies: My husband and I love live music and have been to at least 100 concerts, and have even traveled the country to see some of our favorites.
A favorite book she read this summer…Fighting Words Devotional by Ellie Holcomb
Tell us where you worked in school: In high school at TCBY (the country's best yogurt) & as a nanny; in college at Sylvan Learning Center
Tell us about a favorite summer trip: This summer my family and I went to Punta Cana in the Dominican Republic and swam with dolphins and zip lined through the forest! So much fun!
What is the best thing about being a Library Teacher: This is the first year of me being a librarian and there has been a lot to do to prepare for the school year. I think I have touched every book in the two rooms trying to bring organization in order for students to be able to find and checkout books more easily. I love books and reading to students, it has always been my favorite part of teaching! I love the discussions that can occur after reading a good book together. Reading is so important for multiple reasons which I am excited to share with the students!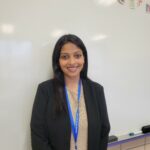 Meet Mrs. Anjalina Benny, a new 5th grade teacher. She is originally from India, grew up in New Jersey, then came to Chicago to attend DePaul University, from where she recently graduated with a B.A. in Elementary Education. "During my studies, I had the privilege of serving as the religious education teacher for fifth graders at St. Mary's Parish in Morton Grove for five years. I am now married and am a mother to a beautiful baby girl – Sasha."
Here are some fun facts about Mrs. Benny:
Do you have a favorite nonacademic book that you read this summer: The Absolutely True Diary of a Part-Time Indian.
What's your favorite restaurant: Boiler
Do you have an unusual hobby: I am a UFO enthusiast!
What is favorite childhood summer vacation memory: Taking all my cousins (who were either my age or younger) to go swimming in a lake when I was barely eight years old without adult supervision and getting in a lot of trouble for it.
Things I like to do in winter: Wish for Spring.
Where did you work during college: I briefly worked as front desk assistant at Oakton Library!
What is a memorable place you have traveled to: Vermont
Tell us about a teacher that made an impression on you: My brother – taught me how to ride a bike and later – to drive a car.
How do you prepare for the new school year: Pray, plan and execute.
What is the best thing about being a 5th grade teacher: Seeing the budding personalities of my students!
We are excited to welcome Ms. Beth Pictor as a new 5th grade teacher. She grew up in Arlington Heights with my parents and older sister, Amanda and now lives in Mount Prospect. She graduated from the University of Northern Iowa and has taught in the Archdiocese of Chicago for 7 years. Before working in the Archdiocese, she co-taught 4th grade for half a year in La Grange, IL and was an aide and substitute teacher. We asked Ms. Pictor to share some f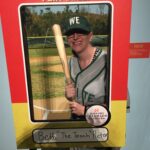 un personal facts:
Her favorite book this summer: Those Who Are Saved, by Alexis Landau
Her Favorite Food: Italian and Mexican
Her Favorite restaurant: Chipotle
Her favorite childhood summer vacation memory: Going to Hawaii with my family when I was in 8th Grade. I went snorkeling, visited an erupting volcano and visited Pearl Harbor.
A summer job she had: in High School/ college: Day Camp Counselor in the Buffalo Grove Park District
A memorable place she has visited: Costa Rica because I went ziplining in the rainforest.
What she likes to do in Winter: I enjoy seeing all of the Christmas lights in the Chicago Loop and drinking hot chocolate in my place while it is snowing.
Teacher that made an impression on me: Ms. Osbourne (2nd Grade) – she is the reason why I became a teacher. I wanted to be just like her.
Best thing about teaching science: Doing experiments with the students and seeing their problem solving abilities.
An unusual hobby – Every fall I do a corn maze with my sister, Amanda.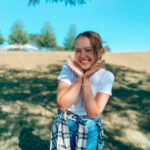 Ms. Lynsie Markovich is our new 3rd teacher. She grew up in East Chicago, IN and went to Indiana University. This is her second year teaching. Here is some information that she shared with us:
What is your favorite food and/or restaurant? My favorite food is flautas! My favorite restaurant is Mago Grill and Cantina.
What is a childhood summer vacation memory? Family trips to Wisconsin Dells! We would stay in a cabin and have so much fun.
What was your job in high school or college? I worked at Dairy Queen in high school and it was so much fun!
What is a memorable place you've traveled to? Colorado – My fiancé and I went there in March and he proposed to me on a mountain!
Who is a teacher that made an impression on you? The teacher that made an impression on me was my 8th grade teacher, Mrs. Valdes. She taught me that no matter how difficult things may get or be, you can still succeed if you put in hard work.