Look at these changes in the gym! A fresh coat of paint on the walls AND a freshly finished gym floor. Thank you to the OLW Boosters for funding this much needed update. The existing gym floor, which was more than 15 years old, was sanded to the bare wood and then two sealant coats were applied. You'll notice a new Wildcat logo that was painted in the center and also an updated "Wayside" at one baseline and "Wildcats" at the other. Brighter basketball and volleyball game lines were painted and then two more sealant top coats were applied.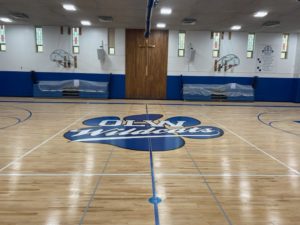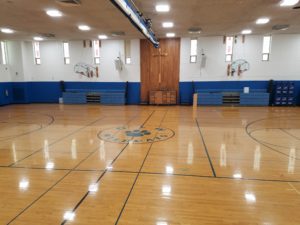 new – modern logo, light colored floor                          old – small logo, dark floor
Our Wayside Wildcat student-athletes will play on the newest and nicest gym floor in the conference! OLW boasts one of a handful of natural, hardwood courts in the area. With this vibrant re-design, Wayside will have the premier gym to host our teams' games and practices.
Funding for these needed improvements comes from donations made by OLW families during the Wildcat Prowl. Boosters also purchased new professional style "plush" team chairs in 2020. The chairs have a similar paw print logo that is consistent with the new center court design.
The next improvement in our gym will be to the plywood floor panels in between the bleacher rows; they need to be sanded and then restained. The parish and Boosters are working now on a schedule for that project.
Through allocated Prowl funds, OLW Boosters plans to engage an annual maintenance program for the gym floor with an as needed re-coating process to ensure its utility and longevity.
The OLW Wildcat Prowl is a favorite fall tradition. It was formerly called the Track-a-Thon and students walked laps in the parking lot. For about 15 years now, the Wildcat Prowl has students walk around Pioneer Park. It's a great sight to see all our students in Spirit Wear showing their Wildcat pride in the neighborhood – even this past year when they laughed and walked while wearing masks. For this upcoming school year, the Wildcat Prowl is scheduled for September 24, 2021. Watch for us in the neighborhood.