A Night for the Blue and White Annual Gala
February 23, 2019 – Save the Date and Join Us
Gala Website – to purchase tickets, see our sponsors and community partners, watch and bid on items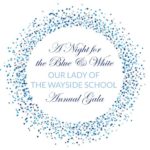 Our Lady of the Wayside School's annual Gala has grown to become one of the most important fundraisers for our school community. For thirty years, local businesses, friends of the parish and school, and numerous other supporters have looked forward to setting aside an evening in celebration of OLW School. A Night for the Blue & White will take place on Saturday, February 23, 2019.
This year's Premier Sponsor is Wealth Enhancement Group. The Meehan and Siewert families are OLW families since the 1990's.
The Diamond Sponsor is Paragon Mechanical. We thank the Polka Family, a current school family, for their support.
The Platinum Sponsor is Schneider Real Estate Group. We thank the Schneider family, also a current school family, for their support.
We value our sponsors greatly and their support truly helps ensure the success of this event. Please support them as they support us. You can click on these logos to find their websites.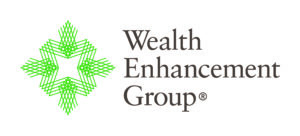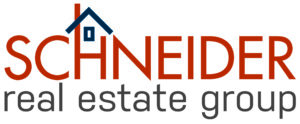 We have many reasons to be proud. In 2015 the U.S. Department of Education awarded a National Blue Ribbon to OLW School. Our eighth graders continue to excel nationally and within the Archdiocese of Chicago on the national Aspire test. Our seventh graders have won their division at the Regional Science Fair for the last several years. Furthermore, OLW was part of a five-year grant-funded partnership with Roosevelt University that provided our teachers with professional development on the latest and best literacy practices and classroom materials. Because of the grant and support from Roosevelt University, we saw measurable success in improved literacy across all grades. All of these achievements are a testament to the dedication and hard work of our students, faculty and parents.
In 2017-18, money raised during the Gala and other FSA fundraisers was used to update the school offices and to renovate the large library space into a new modern multi-purpose room. Two unused classrooms were then turn into separate primary and elementary library/resource spaces. Middle school books were moved to the middle school building so that students in grades 6-8 have easy access to books that are appropriate for them. A mural of the Blessed Mary that hangs in OLW church was recreated by ArtBeat Live and hangs in the new multi-purpose space. The mural is made up of tiles that are painted by OLW students and families.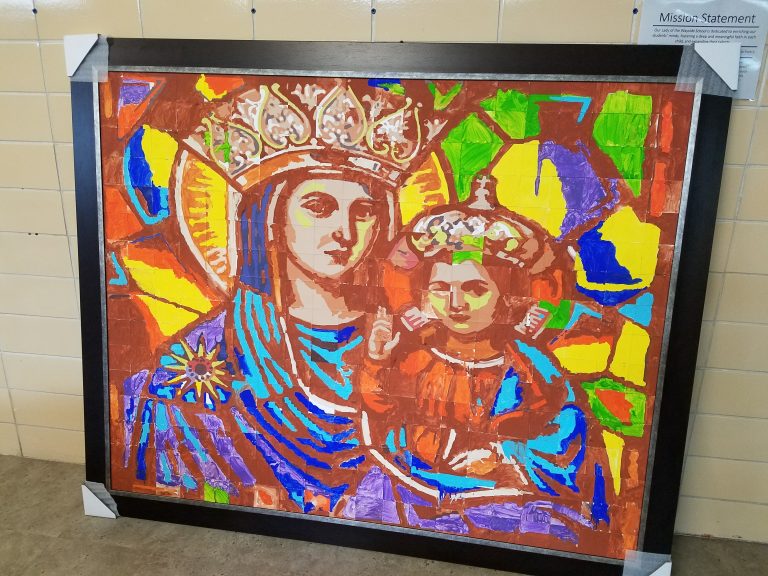 A Night for the Blue & White is an opportunity for parents, faculty and staff, parishioners, and friends of OLW to come together in support of the school. The money raised at the Gala funds vital Family & School Association programs that support OLW students and teachers and the OLW School Annual Fund. By championing our students today, we ensure the continued success of OLW School and the students of tomorrow.
2019 Gala Co-Chairs: Tracey Dolsen, Feliza Gauthier, Rachel Mortellaro, Christa Schermerhorn
Gala FAQ 2018 – answers to frequently asked questions about the annual Gala
2019 GIFT GIVING OPPORTUNITIES – this sheet describes the many ways you can support the Annual Gala
2019 SPONSORSHIP – ready to become a sponsor to to donate an item or service? You can fill out this form online, save it to your computer and email it to us.
2019 ADVERTISING AGREEMENT – include your business and/or personal ad in our Gala Event Book. Just fill out this form online, save it to your computer and email it to us.
Feel free to contact us at any time if you have any questions. olwblueandwhitegala@gmail.com
Pictures from previous Galas