Some words from Father Artur:
As many of you have heard, the Archdiocese of Chicago has implemented the "Renew My Church" program. You may even be aware that, within the scope of this program, some smaller parishes within the Archdiocese were combined to create larger, more viable parishes. As a result, there is a certain anxiety that Our Lady of the Wayside will be combined with another neighboring parish.
We are a thriving and viable parish with a large school and no debt, and we will likely remain so. For this reason, the real focus of the Renew My Church program at Our Lady of the Wayside is to continue helping our parish flourish and to continue welcoming people into the Church.
In light of this goal, I will be restructuring the parish staff and redefining several roles. For instance, our Business Manager has recently retired. In his place I will hire an Operations Director. This role will be similar to the role of a Business Manager, but will also involve overseeing the parishes' physical assets, human resources, and other "physical" capital of the parish according to our mission, which is evangelization and education. The scope of the Operations Director's role will also entail the school's budget.
In addition, we will hire a Director of Parish Ministry & Evangelization. This position will collaborate with me in implementing a strategic plan to carry out the parish's mission, increase vitality, and ensure that our ministries align with our parish mission.
Thank you to the volunteers and staff who have worked so hard to reopen our parish and to those who are working so diligently to reopen our school. Together we will continue to build and foster a vibrant parish community and school that provide a home in Christ for each of us and our families.
Welcome Fr. Mark Augustine
I am delighted to welcome Fr. Mark Augustine as a resident to Our Lady of the Wayside Parish. Fr. Mark will join our parish community on the weekends in order to assist me by celebrating a few Sunday Masses. Thank you, Bishop Rassas, for kindly introducing Fr. Mark to me. Below you will find Fr. Mark's introduction.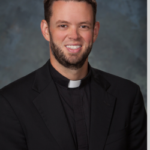 Hello Our Lady of the Wayside!  My name is Fr. Mark Augustine, a priest of the Archdiocese of Chicago for the past 7 years.  After concluding the past 2 years as an Associate Pastor and Administrator at St. Mary's parish in Lake Forest July 1, I will now begin ongoing studies in Canon Law this upcoming school year.  However, due to the pandemic, my learning at St. Paul's University in Ottawa, Ontario will be done virtually for at least the Fall semester.  Fr. Artur has graciously offered while I begin my e-learning this Fall, as well as throughout the next few years of study, to be a resident priest and help at Mass at Our Lady on weekends.  I have accepted this gracious offer and will begin celebrating Sunday Mass this weekend at the 9:30 am Mass!  I look forward to getting to know the parish and the people over the next few years as I begin this new experience of priestly ministry.
I am the youngest of three children, all of whom still live in the Chicago area.  I attended Loyola University of Chicago and then joined Mundelein seminary upon graduation, being ordained on May 18th, 2013.  I greatly enjoy going for runs and long bike rides as well as spending time hiking and camping, when my schedule allows.  A fun fact about me is that I have been involved in the Boy Scouts of America for 30 years and am proud to be an Eagle Scout.
May God bless you at this time and I look forward to serving you
In Christ,
Fr. Mark Augustine
Our 8th Graders Have Graduated!
On Friday July 24, the 8th grade students of Our Lady of the Wayside participated in their graduation Mass. Congratulations 8th graders! We will miss you, and we wish you all the best throughout your high school careers.
Confirmation Masses have been rescheduled!
We are ready to resume the Sacrament of Confirmation at Our Lady of the Wayside!  8th graders will be confirmed over the next five Friday evenings (July 31, August 7, 14, 21, 28) at 7 pm in the church. We are so proud to have been part of the faith formation of our (now graduated) 8th graders and extend our heartfelt congratulations and offer prayers for our Confirmandi. We thank the, and their parents and sponsors, for their patience.
"I would like to congratulate all of the youth who have prepared to receive the Sacrament of Confirmation. You have taken the most important step in your journey of faith by readying yourselves to become fully initiated into the Body of Christ. May the Holy Spirit continue to guide each of you according to the path that God has set out for your life. May you always be courageous and uncompromising witnesses to the Catholic faith, meaning Christ and His Love," said Father. He added, "I would also like to express my gratitude to the parents, sponsors, and everyone who has taken time to help prepare our youth to receive the Gifts of the Holy Spirit. May Our Heavenly Father reward your efforts and dedication."
To comply with Archdiocese and State of Illinois COVID-19 directives, each Confirmation Mass will have 18 or 19 candidates plus sponsors and a limited number of family members.  For those unable to attend the Confirmation Mass "live" these Masses will also be live-streamed on the OLW Parish Facebook Page, and be available for on-demand viewing thereafter.
Reopening of Our Lady of the Wayside
Our Lady of the Wayside is now open, and the public is welcome to attend Mass. The schedule for Mass is as follows: daily Mass will take place on Mondays and Tuesdays at 8:30 AM. Sunday Masses will be celebrated on Saturday evenings at 5:00 PM and on Sundays at 9:30 AM, 11:30 AM, and 6:00 PM. Due to the ongoing corona virus pandemic, Cardinal Cupich has extended the dispensation to attend Sunday Mass in person. Those who are at risk and those who are not yet comfortable attending Sunday Mass in person may continue to watch the live stream Masses on our Facebook page and make an Act of Spiritual Communion.