Panera in Rolling Meadows – Friday,  July 31 from 4-8pm
20% comes back to OLW – mention OLW or show a picture of the flyer below.
Use the code PRFUND if you place an order online.
Gift Cards, catering, kiosk and third party delivery will not qualify.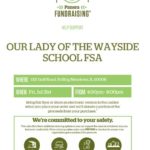 See you there!
UPCOMING
Berry Yo – August 19-21, from 12-9pm
Celebrate the first days of school with a cool treat at BerryYo
Cortland's Garage in downtown AH – in September
Supper Clubs – Throughout the year, OLW participates in Supper Club fundraisers, where a local restaurant donates to OLW a portion of the sales on a certain day during a certain time period. Sometimes you just mention the fundraiser, sometimes you can show a flier on your phone and sometimes you need the paper flier. Watch the school social media channels for places and dates.