CANCELLED
March 31, from 4-8:00pm at Panera:
Wednesday, April 15
Chipotle in Rolling Meadows from 4-8pm – they will donate 33% of specific sales back to OLW – mention OLW when you order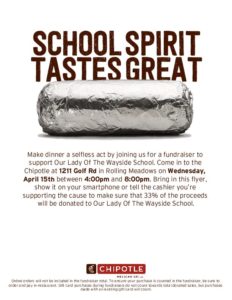 Supper Clubs – Throughout the year, OLW participates in Supper Club fundraisers, where a local restaurant donates to OLW a portion of the sales on a certain day during a certain time period. Sometimes you just mention the fundraiser, sometimes you can show a flier on your phone and sometimes you need the paper flier. Watch the school social media channels for places and dates.