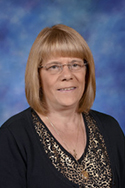 Current Grade/Specialty Area:
 Learning Resource 4th-8th grade
Teacher/Staff At OLW Since: 1985
Educator Since: 1985
Education:
Western Illinois Universtiy, Special K-12 Learning Disabilities
Special Certificates, Licenses, Programs, Trainings:
Member of the National Associaton of Special Teachers
Wilson Reading System
Lindamood-Bell Visualizing and Verbalizing Program
Email: spearson@olwschool.org School Phone: (847) 255-0050 Voice Mailbox: 284
Wayside has been a large part of my life and I feel honored to be part of sucha a strong community that has been awarded two National Blue Ribbons. I continue to feel inspired by the challenge to help students grow to their fullest potentials.
Tier 2 and Tier 3 Intervention Materials
AIMSWeb Progress Monitoring
Rewards Intermediate-Word attack and rate development strategies
Focus Series, Strategies– Main Idea, Understanding Sequence, Recognizing Cause and Effect, Comparing and Contrasting, Making Predictions, Drawing Conclusion and Making Inferences
Let's Target -Comprehension by Sadlier
Vocabulary Workshop by Sadlier 
Jamestown Literature
Wilson Reading Program
Wilson Fluency
Visualizing and Verbalizing-LMB
Making Connections-Skills and Strategies for Academic Reading
Einstein's Who, What, and Where
Reading & Reasoning
SRA Specific Skills Series for Reading
Megawords
Reading Plus

Student Websites
www.scholastic.com/parents/resources/game/tools/flash-card-maker
www.bubbl.us  This is a great website for creating concept maps and mind maps.
http://www.kitzkikz.com/flashcards
Helpful Parent Websites